Moolooloba pre-race press conference 2016
by Merryn Sherwood
on 11 Mar, 2016 06:09 •
Español
The form man of the moment, Mario Mola, faced the press at ahead of Saturday's Mooloolaba World Cup alongside homegrown Australian talent Emma Moffatt, Ashleigh Gentle and Courtney Atkinson.
Mario Mola (ESP)
On the form of the Spanish men's team:
"I always say that people like Javier (Gomez Noya), he makes us think things are easier than it is. He's been so impressive for many years, having him close and being able to learn from someone like him, we just believe that we can get there. Things are going very very well for the Spanish guys now and there is a big competition for who will make it to the Olympics, so I think that's making us better when we go and travel abroad and race away from home."
On the Mooloolaba course:
"It's definitely a very challenging race, even though it is a sprint distance, like it has for the last couple of years. I think that this is a real triathlon. When I signed up for this I was expecting ocean swims, but mostly we are swimming in lakes and rivers. So it's good to be in the real ocean. We'll see how we go in the waves, maybe we will get some tips from the Aussies."
Ashleigh Gentle (AUS)
On upcoming Olympic selection at the Gold Coast World Triathlon Series event:
"It's a bit surreal going for an Olympic team and actually feeling as though I am in contention. When I first started the series Moffy took me under her wing and helped me out, when I was kind of the developing junior athlete and that was great, I've learnt so much over the years. It kind of seems crazy that four years has come around so quickly. I'm really ready for the challenge and whatever happens, happens. I would really love to make the Australian team and head to Rio. I didn't ever imagine, growing up going to an Olympics was not something I dreamt about. Now it's something that is a realistic goal, I'm really driven to try and make it."
On her start to the 2016 season in Abu Dhabi:
I couldn't have imagined a better start last weekend, and I'm really happy about it. But that was last week and I've got to move on from it. I can take it as a confidence booster, but I'm here in Mooloolaba to
work on a few things which I don't think executed perfectly in my first race last weekend, so it's another great race to do before Gold Coast in four weeks time."
On the home crowd in Mooloolaba:
"I remember last year it was great, the home crowd advantage was awesome. I had a couple of girls come up to me after the race saying they enjoyed running near me, because they could kind of pretend they were being for cheered as well, just because I had such great support from so many Australians out on the hill and also down in the chutes. So it is a great community event, and it's another great race to have here on he Sunshine Coast."
On her transition from Abu Dhabi to racing again this weekend:
"This week I guess is all about resting and recovering, but still trying to tell the body to wake up and get ready to race tomorrow as well. It's not something I do too often, backing up races, but given this week is a sprint race it will be better than tryng to do two Olympic-distance races, so tomorrow will be interesting, so hopefully I've still got some gas in my tank."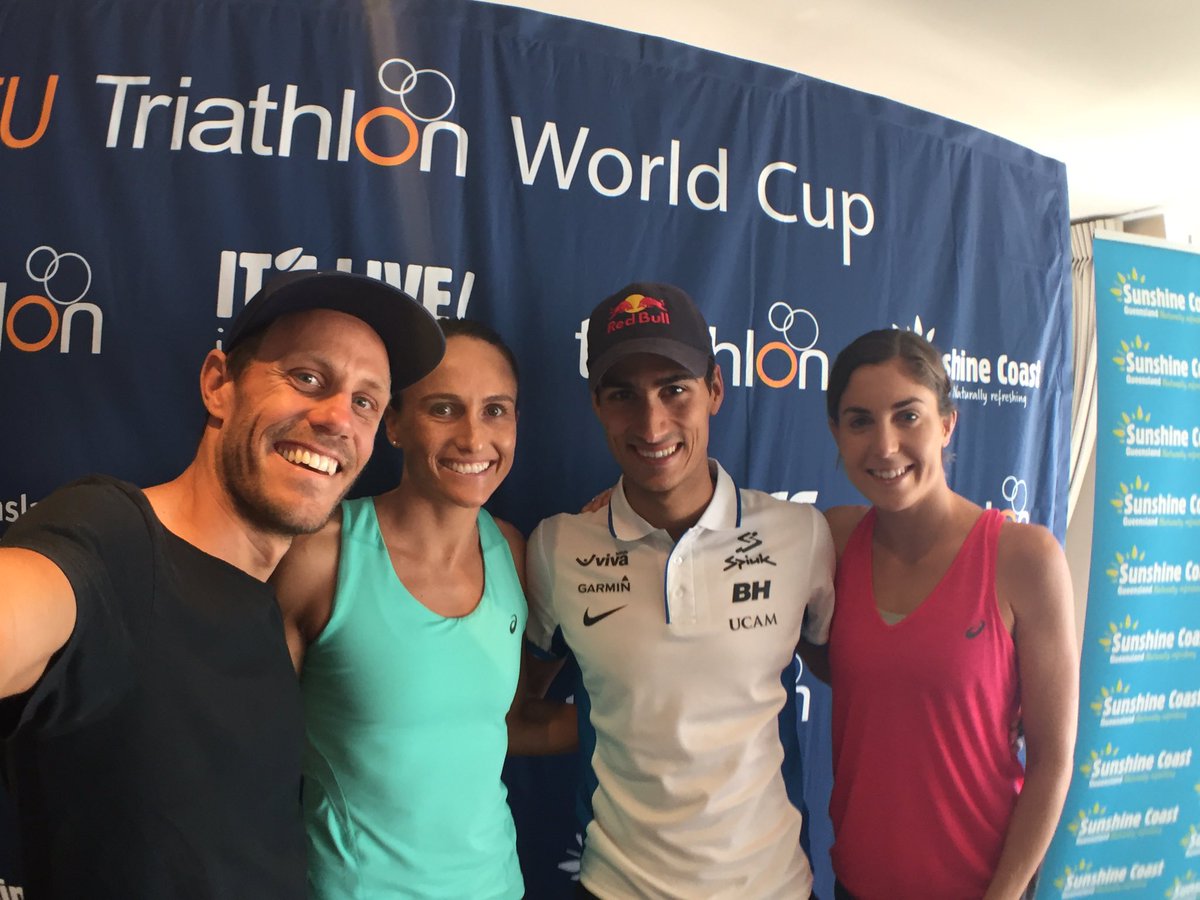 Courtney Atkinson (AUS)
On Mario Mola's form:
"Mario is the benchmark at the moment, he's winning all the races at the moment. To have him racing here in preparation, it's perfect for us."

On the preparation for Gold Coast World Triathlon Series, a major Olympic selection race for the Australian team:
"That's the day you need to get right, this weekend at Mooloolaba is just a very good prepation just to practice the skills and going through a field with the quality that is here, without absoutely flattening you and the fatigue of a two-hour race. So it's an important step in the process for Gold Coast but realistically, for selection the Gold Coast is like our Olympic Games. And then you can actually focus on what's next, whether it's good or bad, the outcome, or whether you maybe go on holiday."
On racing at home in Queensland:
"That's what's nice about this time of the year. The circuit comes to us, here in Queensland, this weekend in Mooloolaba and then in four weekends time our major race - leading up to the Olympics - in the Gold Coast quaflication. It's a huge advantage to us, just being able to just roll the road and race in our home state."
Emma Moffatt (AUS)
"It's my debut of race of the year and I'm yet to test how my offseason has gone. Tomorrow will be interesting, as Courtney said, it's just a great rehearsal for the Gold Coast race. We've got some of the best girls here, Jodie who won last weekend and Ashleigh who came second. So it's a really good test to see how the offseason has been and just getting skills back. I haven't raced since November, so just things like the transitions and a little bit of speed work, it's always a shock to the system, but I'm glad to be racing tomorrow."
The women's race will get underway at 11:45am on Saturday, while the men will toe the line at 1:30pm local time. Follow the races with live timing at triathlon.org and on twitter @triathlonlive.
---
Article gallery
Related Event: 2016 Mooloolaba ITU Triathlon World Cup
Latest
Videos
---
Latest
Event Galleries